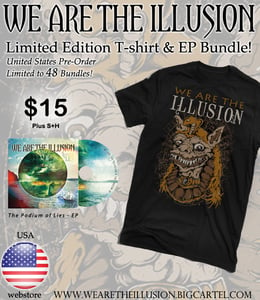 $

13.00 - On Sale
The Podium of Lies EP and T-Shirt Bundle!
This pre-order is for the CONTINENTAL UNITED STATES and CANADA ONLY and is LIMITED TO 48 BUNDLES!!! (while supplies last) Don't wait, they will go fast!
Bundle Includes:
-"Anubis" Design on Black T-shirt
-Debut EP "The Podium of Lies" Hard Copy (be one of 48 to own this EP and t-shirt in the United States!)
Pre-order will be up for a two-week minimum.